My neighbourhood in METAMORPHOSIS
The District Central is readying itself for an emblematic, lasting transformation. Landscaping, greening, sustainable development… It's up to us to create a vibrant, inspiring, rich, unifying, inclusive ecosystem.
READY TO SEE THE NEIGHBOURHOOD'S MORPHOLOGY TRANSFORM?
Discover the project
A key identity project
How do we move from an industrial neighbourhood to a verdant business district? In light of numerous consultations, the SDC District Central and its partners will be implementing a series of initiatives between now and 2028 to create stimulating living environments, foster the growth of flourishing businesses and bring real sustainable development to fruition.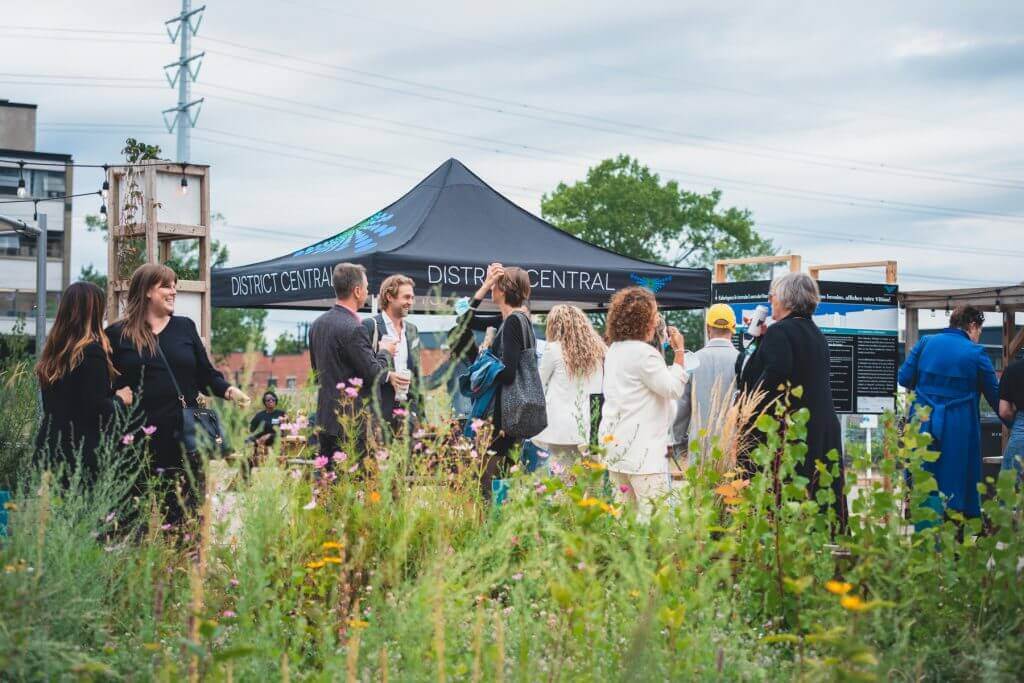 Event organised by the SDC District Central.
here, we sow the seeds of flourishing projects
Sown in May 2023, the first phase of this metamorphosis seeks to address the needs expressed by our neighbourhood's workers, business leaders, residents and visitors over the last number of years. Our leading feature is La Prairie Louvain — a monumental sunflower field that will brighten the entire neighbourhood.
Our ambition
By 2040, our collective ambition is to become the greenest borough in Montreal.
That's why the SDC District Central is focusing its efforts on these levers of change:
Showcase the vitality of our trendsetting territory
Grow our business sectors: design, urban manufacturing and technology
Become a pivotal area on Montreal's economic scene
Facilitate the District's accessibility and mobility
Give the neighbourhood a life of its own
Bank on sustainable development and a circular economy
---
"I think a lot of people know that the area to be very productive a lot of things going on in this area"
Sean Henry (CBC Daybreak Montreal)

"Armela Cucuzzella is the Research Chair in Integrated Design and Sustainability for the Built Environment at Concordia University, where she also teaches design. She said the SDC's plan has the potential to redefine how residents think and feel about their neighbourhood."
Cassandra Yanez-Leyton (CBC News)

READ OUR PRESS RELEASE
An initiative of the
Our partners
lA PRAIRIE LOUVAIN OFFICIAL partners
Design by